Fly Fishing for Rainbows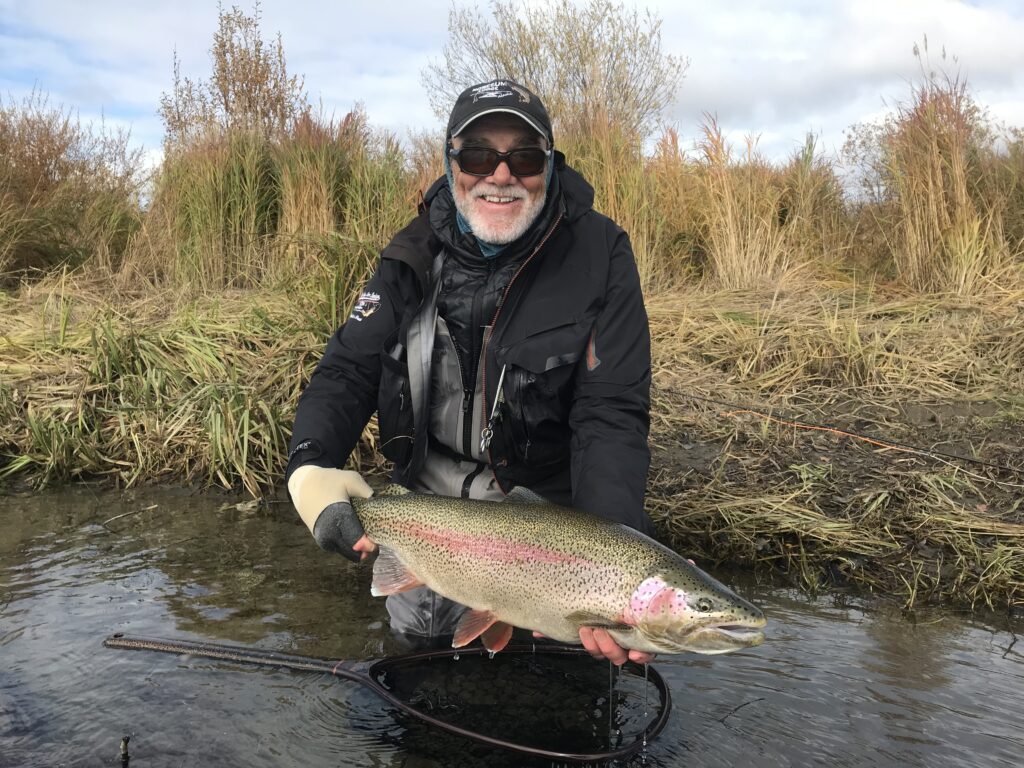 Famous for being acrobats, rainbow trout are powerful fighters when hooked; often taking to the air during relentless struggles with excited anglers. They are primarily freshwater fish, referred to as "stream resident" because they spend most of their lives in streams, estuaries, and other near-shore waters. According to the Alaska Department of Fish and Game, rainbow trout are native to Southeast Alaska, but their range extends through the Pacific Rim, from as far south as California to as far north as Kamchatka Peninsula in Russia. In Alaska, rainbow trout naturally occur from South central Alaska to South East and, of course, are most prolific in Bristol Bay.
Alaska Rainbow Trout
Their strong fighting abilities are perhaps the main reason they are so popular with anglers. Rainbow trout can grow to be as long as 45 inches and can weigh up to 55 pounds (although the most commonly encountered are in the one to five pound range). Natural-born survivors and "opportunists", they are a predatory fish, feeding freely on whatever is available—including other fish (dead or alive), insect larvae, insects and even salmon eggs. With these fish being so vivacious and hungry, it's no surprise they'll put up a fight!
Just as stunning as they are combatant, rainbows are named for their beautiful side colors of reddish-pink and silver. Rainbow trout share the similar, streamlined shape of salmon, although size and coloration vary to reflect habitat, sex, and degree of maturity. The vibrant streaks of red and pink are a trademark that sets them apart from the ordinary. Coloration along the back is usually darker and ranges from blue-green to olive, while the lower sides are silver and fade to pure white at the belly. Like many other trout species, rainbows also are speckled with small black spots that appear on the lateral line, upper fins and tail. In some populations, adults also have spots on their lower sides. Populations found in streams have the most vibrant coloration as well as the most spots. During spawning season, from late March to early June, body color tends to darken.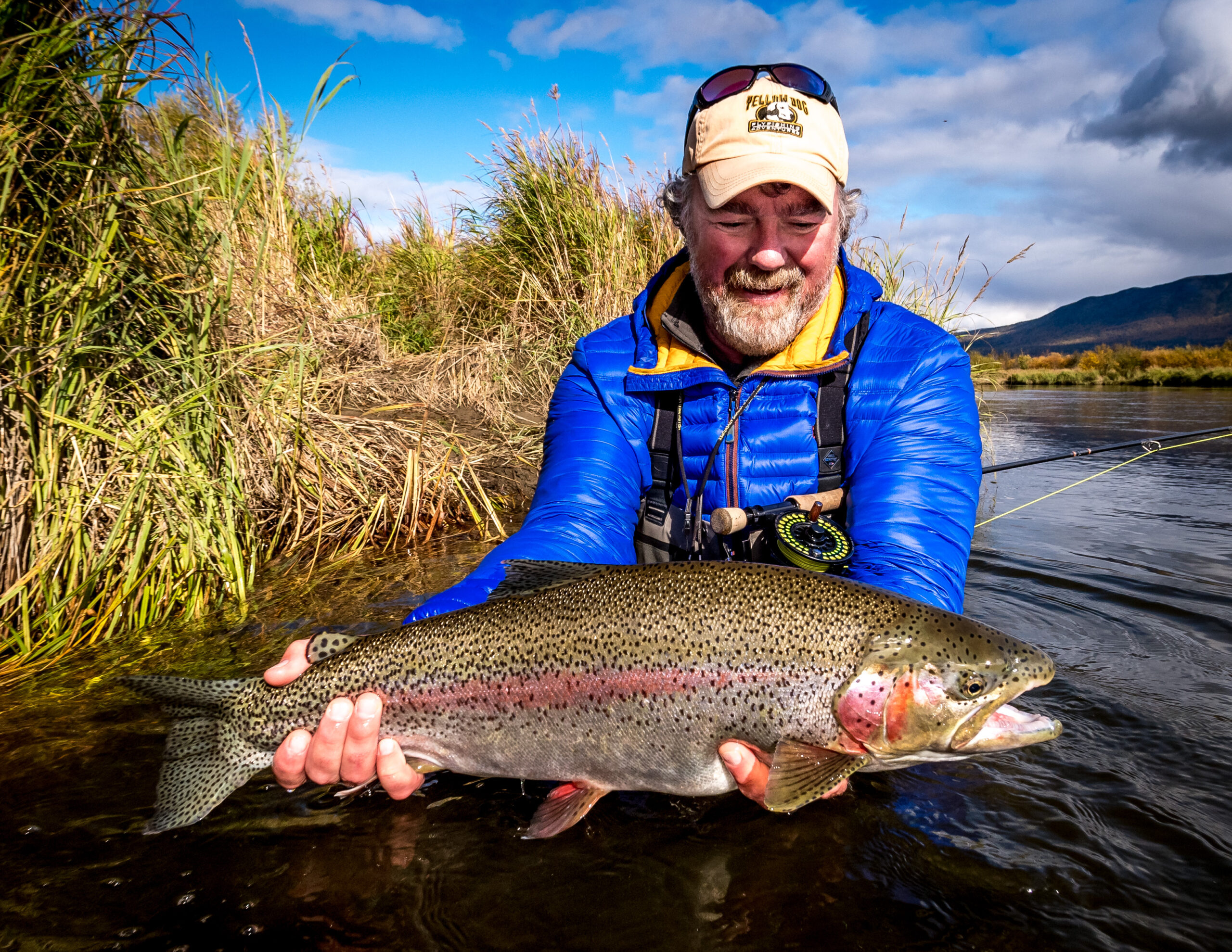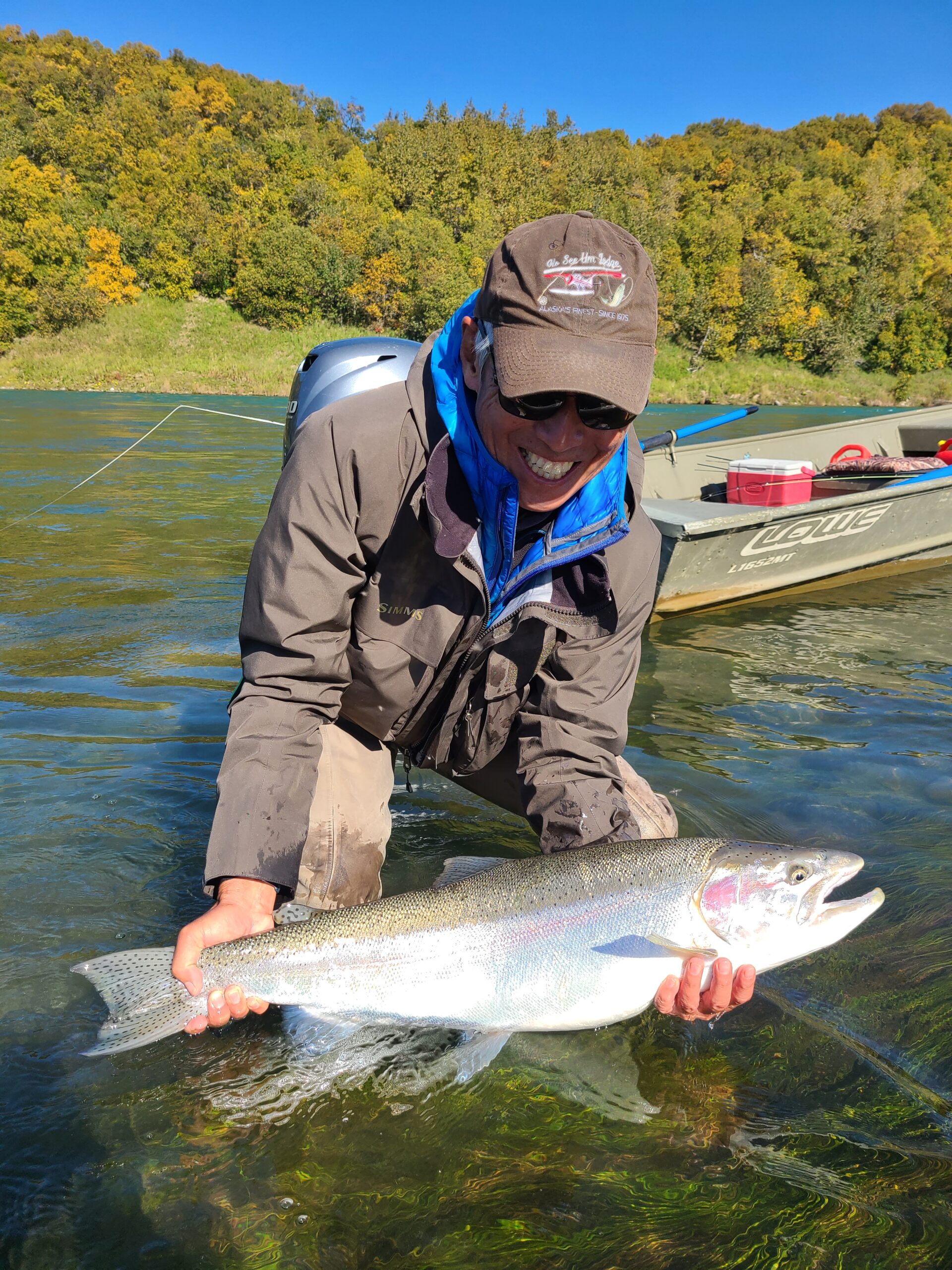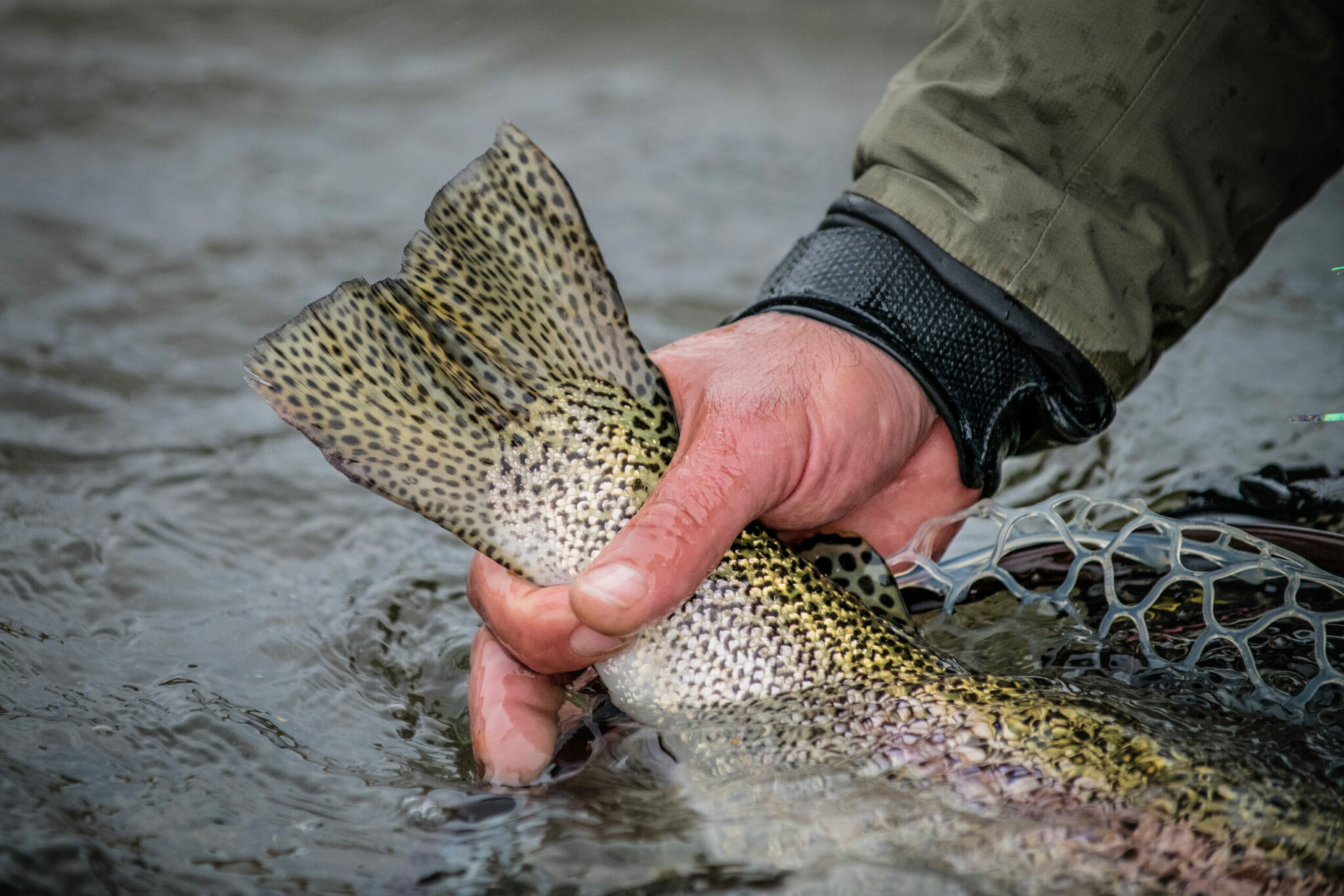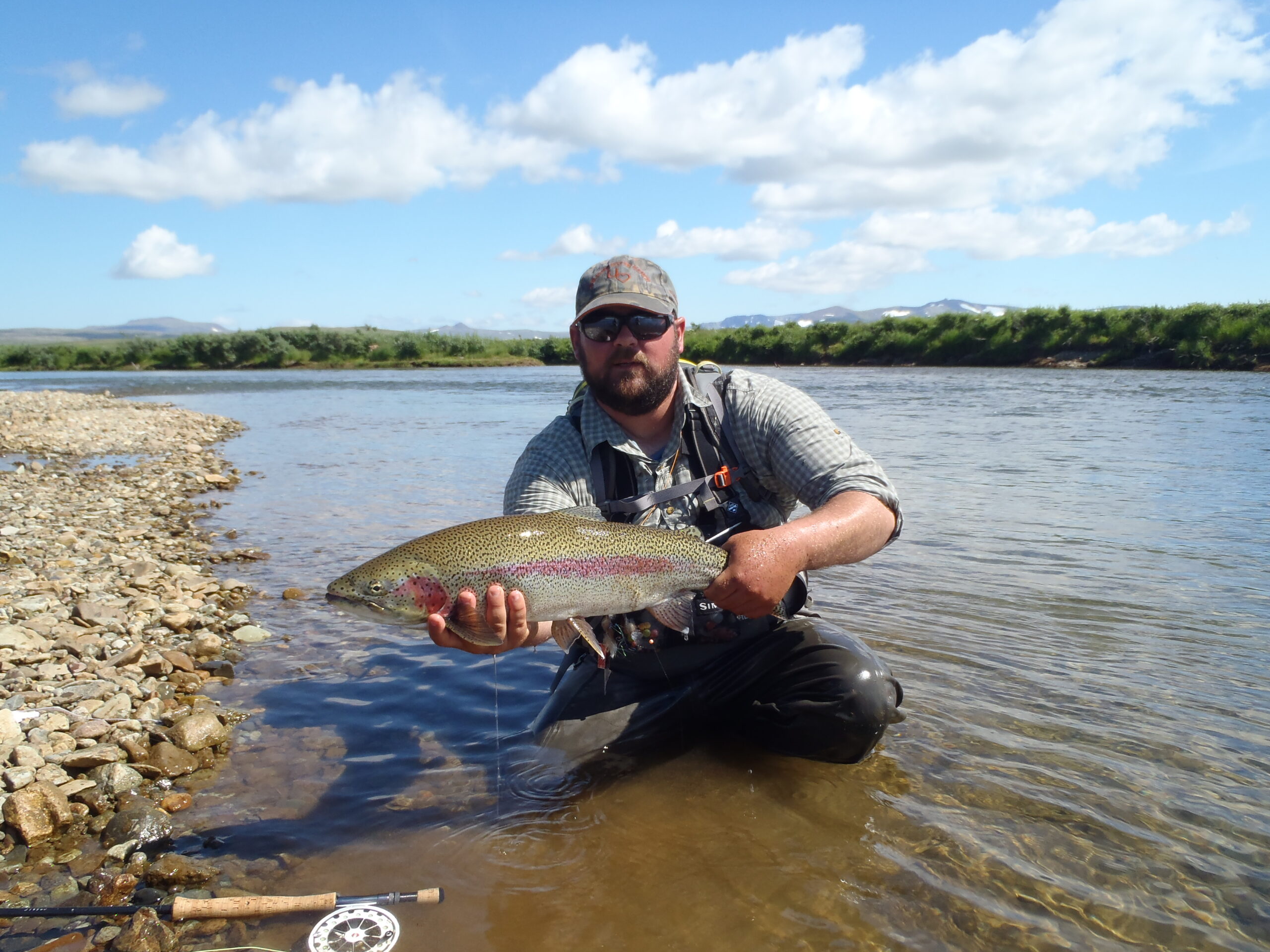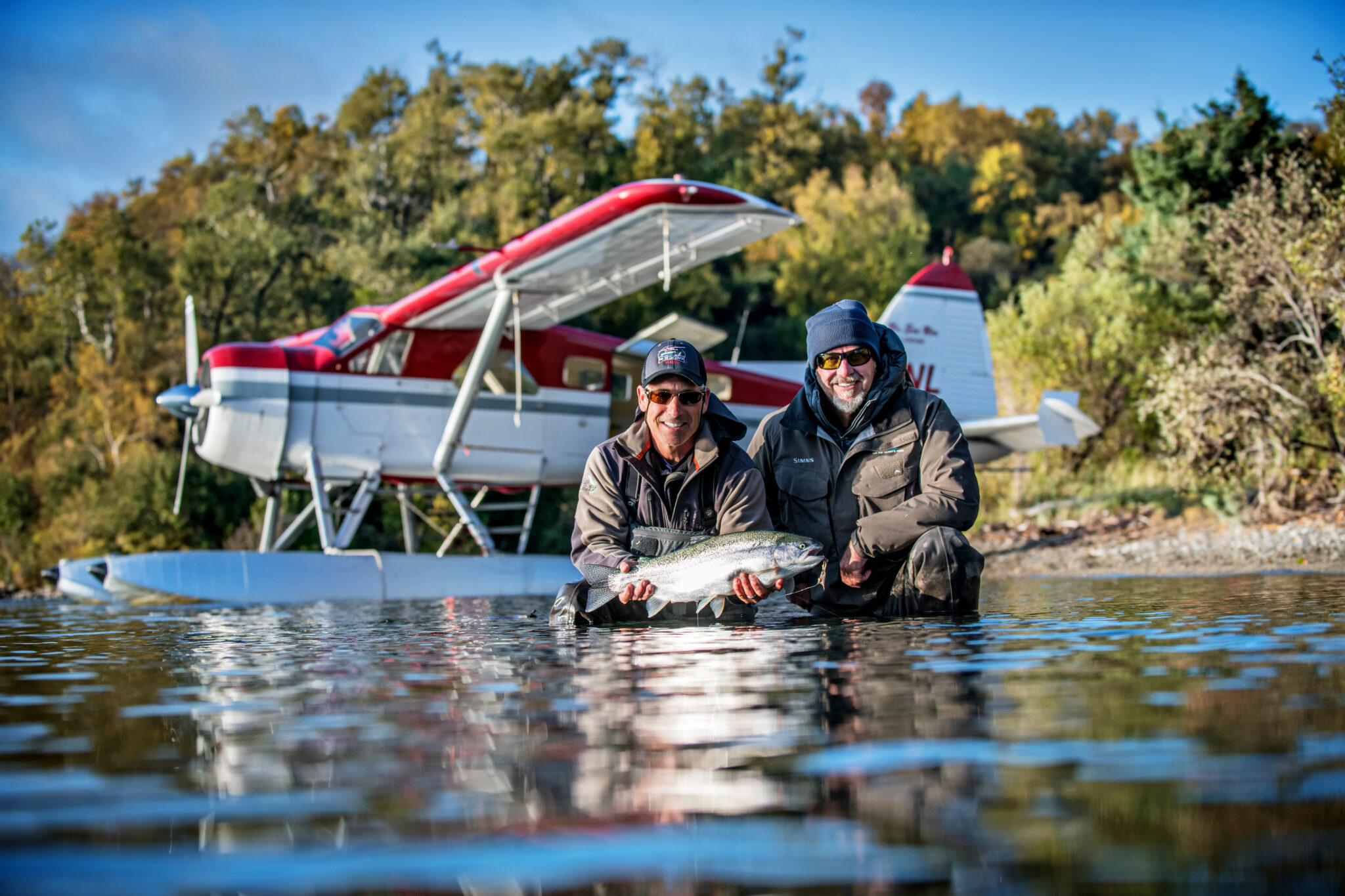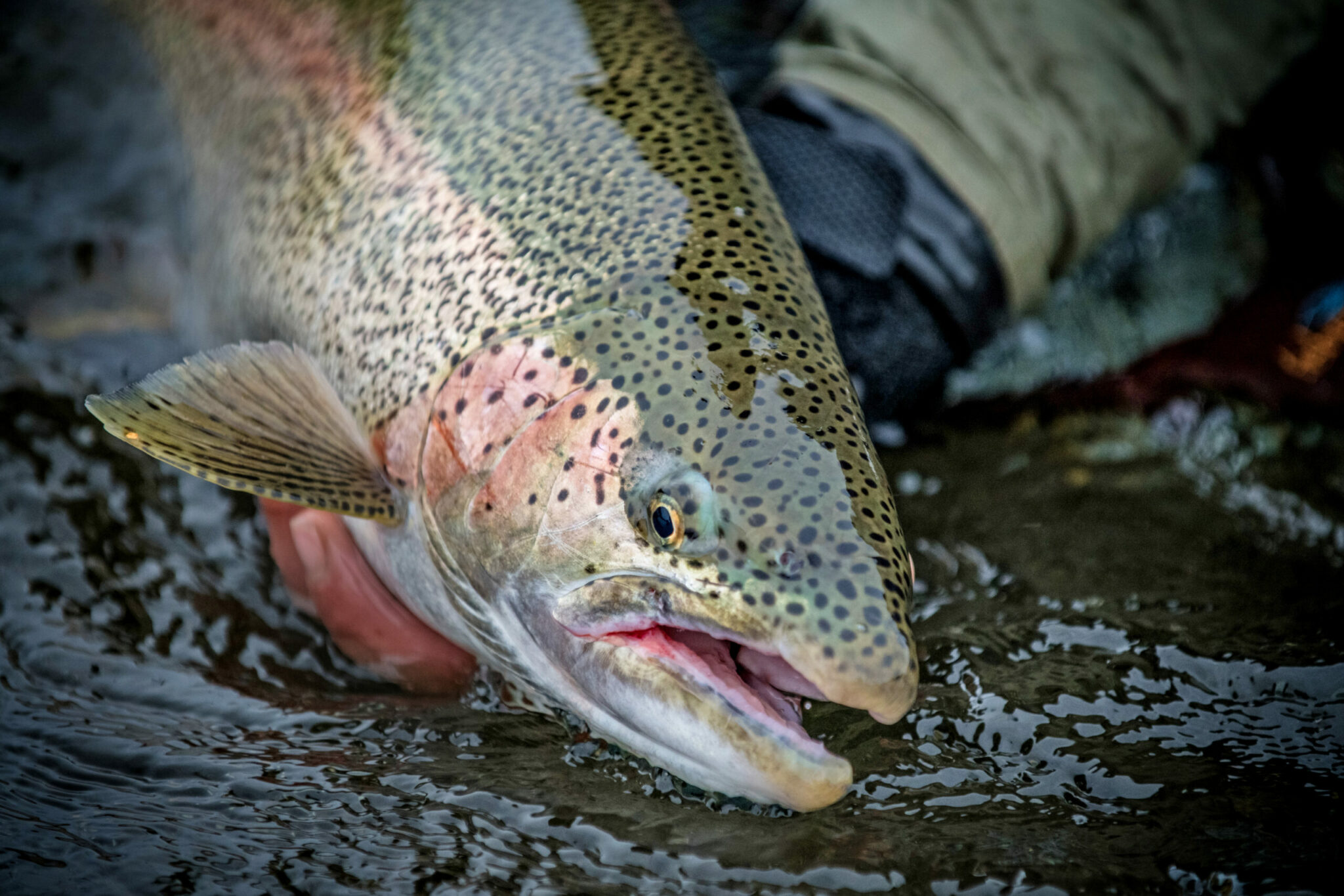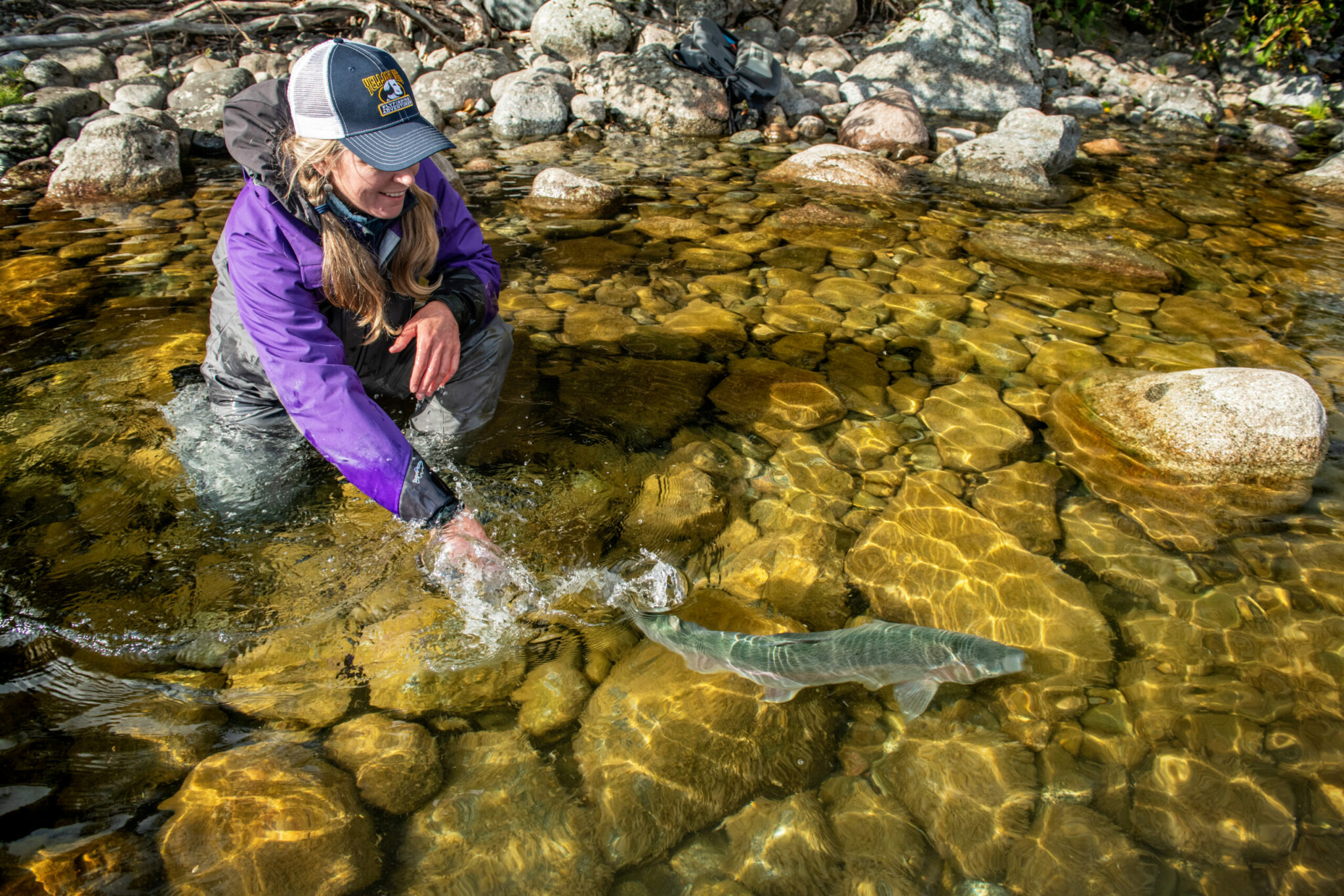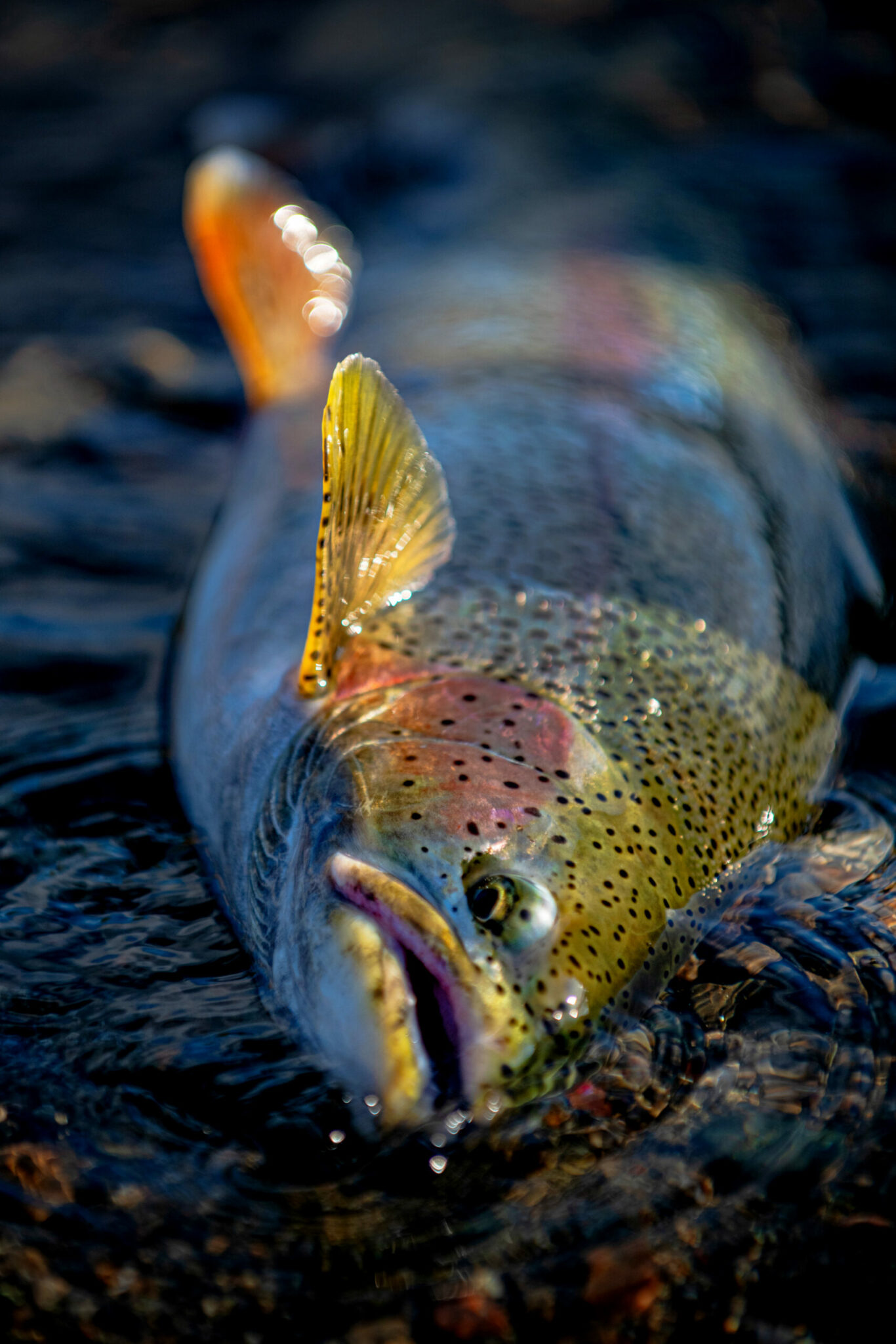 Rainbow Trout Fishing
Rainbow trout season begins June 8th and continues until the waters freeze. Early season fishing is typically exciting as the trout are aggressively feeding on salmon fry, sculpin, copepod and almost anything that moves. Mid-June to late-July the trout feeding varies depending on the river conditions. Diets vary from primarily aquatic insects to mice. The best dry fly action is any day that temperatures allow the hatch and it can last anywhere from minutes to days. Early August brings the salmon spawning season and trout stop looking for moving targets and focus on the free floating salmon eggs. Egg pattern fishing is comparable to nymphing but typically easier to "match the hatch". Egg patterns will dominate through the remainder of the season, along with some great streamer fishing toward late September.
The Alaska Department of Fish and Game identifies the rainbow trout's natural occurrence in Alaska as "the Kenai Peninsula, throughout the fresh waters of Upper Cook Inlet, on Kodiak Island, and in the Copper River drainage." Their native waters extend throughout Southeast Alaska and west to Kuskokwim Bay. Bristol Bay also offers an excellent opportunity to fish for resident rainbow trout, as the clear water lakes and streams that drain into the bay are an ideal habitat.
The Department of Fish and Game also notes that hatchery-reared rainbow fish have been distributed outside of their native range, and are now plentiful in "lakes and streams in the Tanana River drainage near Fairbanks, Kenai Peninsula, Kodiak Road System, Anchorage Bowl Sub-District, and the Chugiak/Eagle River Sub-District" among others. Steelhead trout are usually found in "coastal streams from Dixon Entrance northward and west around the Gulf of Alaska down to the Port Heiden and Cold Bay area on the Alaska Peninsula."
Rainbow Trout Fishing Flies
Rainbow trout are opportunistic eaters: they have a diverse diet, but their most common food source are salmon fry, salmon parr, salmon eggs, insect larvae and pieces of dead salmon flesh. As such, the flies used to catch rainbows can vary. Most people agree painted beads that imitate salmon eggs prove most successful. Flesh-colored lures are also recommended, and in certain waters where tiny rodents are part of the rainbow trout's diet, a technique called "mousing" is very popular. Mousing entails using a Fly that actually resembles a mouse.
Rainbow Trout Fishing Tips
Everybody has their own way of fly fishing—depending on a variety of factors from the kind of fish they're seeking to the time of year, type of water and more. Nonetheless, there are still certain rainbow fly fishing techniques that are generally surefire ways to increase your chances of catching that trophy fish! It is important to familiarize yourself with the waters in which you are fishing. Your Alaska fly fishing guides are highly knowledgeable and will help you with this, but here are some basic things to keep in mind:
Be aware of the general size of the trout where you're fishing. Sizes can vary greatly, so you'll need to be prepared by bringing rods and flies for different weights.
Remember, rainbow trout are aggressive and you'll catch them easier if you let them eat the fly—so make sure you're fishing with something hefty enough to catch a big one.
Because they do put up such a fight, losing flies is common.
When choosing your fly, know the kinds of other fish, insects and plants in the water you're fishing so you can match them. Camouflaging your fly by using materials that resemble food native to the rainbow trout's environment will attract more.
---
4.9

out of

5

based on

14

reviews.
Overall rating:
Another Great Week at the No See Um Lodge
★★★★★
"
The lodge is located right in the middle of the universe for catching large Alaskan rainbows and let's not forget the "Chernobyl" sized arctic char.
"
Rainbow Trout Nirvana
★★★★★
"
Big trout? Really big trout? Lot's of really big trout? You see 'um and catch 'um at NoSeeUm Lodge's fall trout fishing adventures. Big trout follow spawning salmon, picking off loose eggs to fatten up for their winter under the ice.
"
Awesome Week at No See Um Lodge
★★★★★
"
We had a great time catching huge Rainbows on dry flies and 5x tippet on the American, Copper and Gibralter Rivers. John Holman and his team run a fantastic operation.
"
Still the best Trout Fishing in the world
★★★★★
"
The freedom to fly into a river like Dream Creek just when the Rainbows are loading up on Salmon roe and nobody else is there is priceless. Most of the fish caught were over 25 ".
"
Rainbow Trout Fishing
★★★★☆
"
The guides are extremely professional and patience and you learn how to catch fish. It is unbelievable how many fish you catch and how big they are. It is awesome!!
"