If you like to fish around the world, we would like to invite you to join us on our hosted adventures! Below we have details about past and future trips.
If you want to be the first to know where we're going next, sign up for our hosted trip newsletter.
---
Seychelles 2022
In March 2022 John will be hosting a trip back to the Seychelles. If you're interested in details you can email John, john@noseeumlodge.com.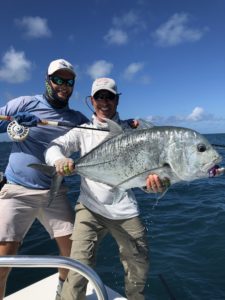 ---
Cuba 2020
In February of 2020 John will be hosting a trip back to Cayo Largo Cuba. The first visit in February 2018 was such a fun experience that John vowed to go back (read about that trip and see the pictures in the blog recap). Discovering Havana, the Cuban people, the amazing group that came with, and the stellar fishery made for an unforgettable adventure.
We've had so much excitement about this trip, that this time John will be hosting two weeks; Feb 22 – 29 and Feb 29 – Mar 5.
Let us know if you're interested as the limited number of spots are already filling up! You can email or call for details. If this trip doesn't work in your schedule you can sign up for the hosted trip newsletter and be the first to know about future hosted trips.
Cayo Largo
The permit capital of Cuba! Cayo Largo is in the South Central region of the Cuban Archipelago, and it's one of the finest permit fishing destinations anywhere in the Caribbean. When you finally arrive in Cayo Largo you will be surprised to find a natural flats environment that has scarcely changed over the last 1000 years. The incredible Cayo Largo (Long Key) fishery came under the management of Avalon Fishing Center in 2008, and has since developed into a great overall permit and bonefish destination (with SOME tarpon in the area as well). The fishing season on Cayo Largo runs from November until August. The beginning of the season from November to January is very good, with plenty of bonefish (especially big ones) on the flats and mangrove areas. Fishing for tarpon and other species can also be good. This is a great time to plan a trip to Cayo Largo, as the weather is much warmer in Cuba than in Europe or Northern America. Peak fishing season is from February to June, when all species are present in the area. The typical week when fishing Cayo Largo is a 7 night / 6 fishing day week starting Saturday and ending the following Saturday. Additional days in Havana or on other parts of the island can easily be arranged and itineraries can be fully customized.
---
The 2018 trip, hosted by John Holman, was a pretty epic adventure! A week in the Seychelles followed by a week in Zambia, with a day fishing in Dubai on the way. To get all of the details read the blog post.
---
In 2017 we did our first hosted trip to Cuba. The trip was a great success! To get all of the details click to read the blog post.
---