Alaskan Fly Fishing
Fly fishing is a beloved, timeless tradition, and a staple of outdoor sports here in Alaska. In fact, Alaska is famous as a worldwide destination for fishing enthusiasts seeking exciting new experiences. Over 3,000 rivers, 3 million lakes, and 6,640 miles of coastline make Alaska a thrilling challenge for any sports fisherman, from beginners to professionals. It's all about deciding where to begin—and that depends on the experience you're looking for!
Fly fishing is a method of angling in which the angler casts an artificial "fly" using a rod, reel, and a weighted line to catch fish. The weighted line is heavy enough to carry the almost weightless fly through the air to the targeted spot. There are different types of flies, each designed to stimulate fish by resembling something else. Some flies imitate insects or natural invertebrates, while others resemble baitfish or lures.
In the past, anglers used organic matter to tie their flies, but nowadays, fishing flies are commonly made with synthetic materials—beads, feathers, hair, and string, among others. Flies are tied to match the natural environment of the targeted fish, mimicking local organisms in size and color. Fly fishing can be done in both salt and fresh water.
Fly Fishing in Alaska
Fishing in Alaska requires a fishing license from the Alaska Department of Fish and Game. Generally, peak fishing seasons can run from early June through early October, although there should be a number of factors that go into planning the right time for your trip.
Fly fishing is the most effective method for catching many of our native fish and many of our rivers and streams are designated fly fishing only.
Each fishing region has its own individual set of characteristics, and you should consider these as well when planning your fishing excursion. Certain places are more accessible than others—both financially and logistically. Some places require a guide and others may be considered more popular, and therefore experience a heavier influx of anglers. In general, there are six Alaskan fishing regions.
The Arctic Region
The Interior Region
Bristol Bay
The Kenai Peninsula
The Southeast Region
Kodiak
The Interior Region and the Kenai Peninsula are the easiest to get to. You can drive there, and there are more amenities, such as hotels, restaurants and commercial areas. The Southeast Region and Kodiak are somewhat more remote. These regions are not connected to the road system and can only be accessed by plane or boat. While the towns have numerous amenities, and you can drive within the areas, they are typically less crowded, making it ideal for anglers seeking a more immersive experience. Finally, Bristol Bay and the Arctic Region are the most remote, and unless you're camping in the wilderness, you usually have to stay in a lodge. These regions offer the most unique and adventurous fishing experiences.
Fly Fishing with No See Um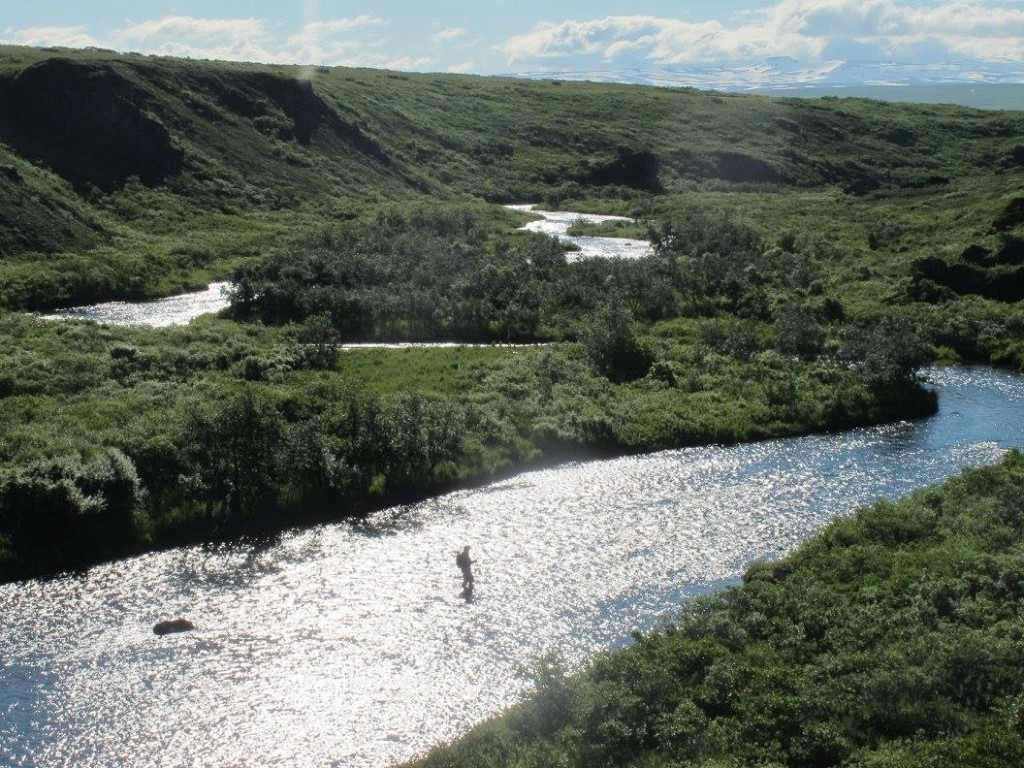 Our lodge is located in south western Alaska, nestled on a high bank overlooking the Kvichak River. We are centrally situated between several fisheries that are less than a 30-minute flight each way. Our three DeHavilland float planes allow access to over 30 rivers and streams. Each day, you choose where you want to fish. Our fishing guides are here to help you create your own experience.
With two guests to each guide, you can be assured that we can accommodate you, no matter what your needs or level of skill. Our guests range from novice fisherman to experienced angler and it is our mission to make sure that everybody has the adventure of a lifetime. For the past 40 years, No See Um has been perfecting the art of customer satisfaction by consistently striving to be the best fishing lodge in Alaska.
While a large part of our fishing is for trout, we spend as much time as our anglers desire going after char, grayling and all five species of salmon. We have boats on both the Nushigak and Alagnak rivers that provide for incredible Chinook (king salmon) fishing, and quite possibly the best chum fishing on the planet.

Learn more about how to travel to No See Um Lodge, and contact us here to begin planning your unforgettable fly fishing experience.
---
---
4.9

out of

5

based on

14

reviews.
Overall rating:
"
We had an awesome time catching big fish. The "fly out" each day was great with skilled pilots and guides. Food was great and the setting incredible.
"
Great overall experience
★★★★★
"
We caught King Salmon, Sockeye Salmon, Rainbow Trout, Chum Salmon, Char and Grayling on 6 different rivers across 7 days. Each of the 6 guides are top notch. I fished with each of them and they are all great. It would be hard to pick a favorite.
"
Amazing... Everything
★★★★★
"
There is not one complaint that I have about this place. The best vacation I have ever been on and everything about it was amazing. No doubt the best place in Alaska for all kinds of fishing!
"
Bucket List Fly Fishing....
★★★★★
"
The fishing was great with a nice variety caught. We sight fished for the glamorous Rainbow in crystal clear streams, the Char and Greyling we got were downright aggressive, and the Chum were my favorite because they sizzle and fly into your backing with a vengeance.
"
Execution and Flexability
★★★★☆
"
First class operation that offers anglers the option to go where the fish are. No daily set plans except to find and catch fish. 3 Beavers offers total flexibility.
"
"
I have been visiting NoSeeUm lodge almost yearly for 20 years. The guides and pilots are very knowledgable and consistently maximize the fishing experience, which is world class.
"
12 straight years--enough said!!!
★★★★★
"
No finer lodge in Alaska. The best! INCREDIBLE FISHING, GREAT FUN, FABULOUS FOOD AND STAFF. ALL VERY DEDICATED TO THE CLIENTS ENJOYMENT. SUPERBLY MAINTAINED BEAVER PLANES AND SAFETY COMES FIRST, ALWAYS.
"
The Ultimate Alaskan Fly Fishing Experience
★★★★★
"
No See Um sits on a small bluff overlooking the Kvichak River - just an amazingly outstanding and beautiful place. My only regret in writing this is that the No See Um will get more popular than it already is and getting a space for myself and my wife will get harder.
"
More fish that you can believe and superb service and lodging -- and bugs not an issue
★★★★★
"
Wonderful scenery and wildlife. Fly in to a different place each day. Plenty of bears (no safety issue), some have seen wolves. Lots of photo ops. Great guides and interesting customers with various levels of fishing expertise.
"
"
I've ever experienced. Been to many but none any better. You gotta go! Food is good. Planes are safe. Pilots are exceptional. Family atmosphere. So many fish your arm will get tired.
"
Straight A's for NoSeeUm Lodge
★★★★★
"
the fishing was superb, matching and exceeding my highest expectations. We fished primarily for rainbows, but also got into plenty of char and silvers and the occasional grayling.
"
Could not ask for more...
★★★★★
"
There was not a stone unturned in making the week completely unforgetable. From the transportation to King Salmon through the daily routine, No See Um had it all dialed in perfectly.
"
No See Um Lodge Fall Rainbow
★★★★★
"
I've fished all my life and this was by far my best experience. The accommodations, food, staff, and fishing were all excellent. We flew to a different river each day.
"
Outstanding lodge with a fantastic staff!!!
★★★★★
"
My son and I experienced a trip of a lifetime. The fishing, the amenities and the staff that run the lodge could not do a better job. You are in great hands with the guides, the pilots and the chef. I have been lucky enough to fish at many lodges and I can easily say this lodge rates at the top. There is no reason to book elsewhere...you will not be disappointed by the experience No See UM lodge provides. If anything, you will eagerly plan you return visit as soon as you arrive home.
"