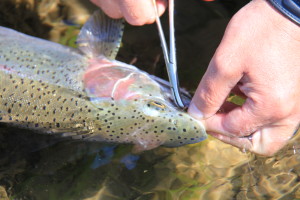 Your adventure can vary greatly depending on when you choose to come. Our season corresponds with Alaska's summer, June- September 30th. Our warmest weather and longest days are June and July. Temperature averages for June, July and August are 62 degrees with a September average of 56 degrees. While the early months typically have the nicest weather, it's still possible to get a week of cold, rainy weather throughout the season. It's also possible to see 70 degree days in September. Bottom line- it's very unpredictable.
We generally base our days on weather, available daylight and where we plan on fishing. June and July will have unlimited daylight and a wide variety of destinations to fish. Our chef will prepare a delicious breakfast around 7 am and a gourmet dinner at 7 pm. August and September will have reduced daylight and fewer fishing options so we usually try to get out at "sun-up" and back an hour before dinner.
A typical day at No See Um Lodge
6:45 am: A wake-up knock at your door with a delivered cup of coffee.
7 am: Breakfast- Try one of our scratch made daily specials. Always available- eggs to order, bacon and sausage, hash browns, a selection of cold cereal, oatmeal, fresh fruit, and fresh baked pastries.
7:45-8 am: Get waders on, grab your rod and gear and head to the dock.
8 am: Board float plane, relax for an average 30 min flight to one of over thirty destinations.
8:30-5:30: Fishing, viewing wildlife and soaking up the incredible scenery . We always bring a lunch but occasionally cook fresh fish stream-side. Lunches are a variety of sandwiches, pasta dishes, vegetables, snacks and fresh baked cookies. Your guides will also bring along homemade soup and your choice of beverages.
5:30-6 pm: Flight back to the lodge.
6-7 pm: Hot tub, sauna, relax with a beverage and sample the days special hors d'oeuvres and watch the sunset.
7-9 pm: Dinner and planning for the following day.
Preparing for tomorrow…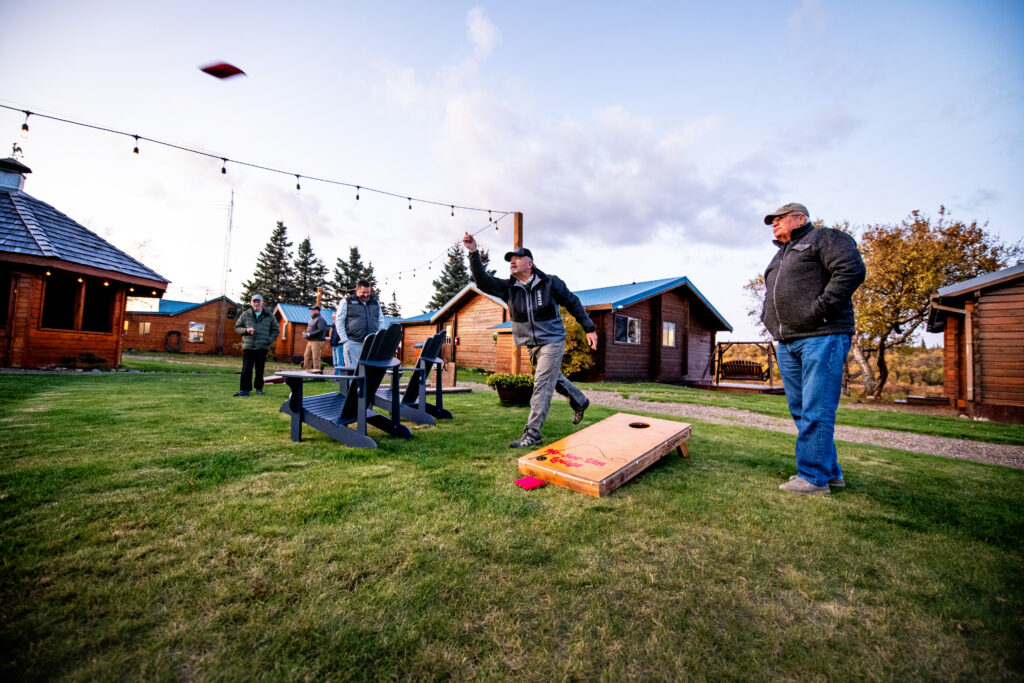 During dinner we will discuss the following day's options. We look at weather forecasts, gather input from all guides and pilots and present the best options. Many of our guests are repeat visitors and often have favorite destinations. We always try to accommodate everyone's wishes and generally do. It's one of the great advantages to having a small number of anglers and three airplanes.
After dinner you can relax by the fire, wet a line in the river or join a lively game of horseshoes or cards. Each week varies on individual preferences. Some people want to rest, some want action, it's up to you.
Occasionally we have "weather days." This can involve high winds or low visibility. Generally we can still get out fishing either by choosing a destination minimally affected by adverse conditions or fishing our home water via jet boat. These days are rare, only a couple times a season.
Book your Alaskan fly fishing trip today!
Come experience an unforgettable Alaska fly fishing experience and see why our clients return each year to the best fishing on the planet.