SpringOffer
Thanks for your interest in spending a week with us this summer!
Below are the details about the the weeks we have available for the 2017 season and the fishing opportunities you can expect those weeks.  When you're ready, give John a call at 907-232-0329 or email him and mention that you saw this page for $500 off your trip.
June 12-19 :  The rainbows are hungry and aggressive this time of the year!  We target them using a variety of flies including streamers, fry, nymphs, mice and dry flies. Coming off a second near record salmon return, our spring trout will be fat and happy.
June 19-26 : Very likely the same trout fishing as the previous week.  We will also start fishing for king (chinook) salmon around this time.  This is possibly one of our best week for kings numbers.  We target kings fishing either out of a boat, or wading and swinging flies.
July 17-24 : As we move in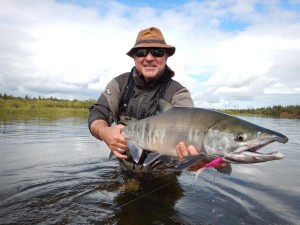 to July we will start catching trout on streamers, nymphs, egg patterns and mice.  It's also typically some of our best dry fly fishing. The king salmon are still running and we will also start looking for chum salmon and possibly some early pink and silver (coho) salmon.  Chum and silver salmon are very aggressive and once hooked put up a fight that will leave you icing your arm nightly.
June and July are a great time to be in Alaska.  Expect long summer days (in June up to 20 hours of daylight) with some of our nicest weather of the season.  Although people think of Alaska as always being cold, in June and July temps average in the mid-60's and can even get up into the 80's!  So make sure you pack your sunscreen.  Have more questions?  Just give us a call and we would be happy to chat about whether any of these weeks would be right for you.  And don't forget to mention that you saw this page!